Cyndi Lauper
Cyndi Lauper – Live in Cleveland 1983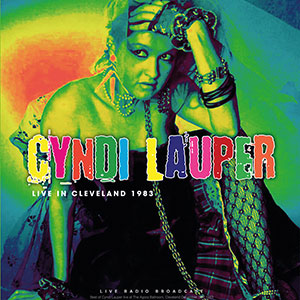 Available on: LP
Playing time: ca. 45 minutes
EAN LP: 8717662580680
ART. NR. LP: CL80680
return to catalogue
Synopsis
When Cyndi Lauper made her debut in 1983, it had an enormous impact. The little lady with the colorful outfits, bright orange hair and squeaky voice turned out to be a punky pop queen with powerful live vocals and presence. She has a knack for delivering timeless classics.
Songs like 'Girls just want to have fun' , 'Money Changes Everything' and 'Time after Time' truly are timeless.
Cyndi Lauper has sold over 50 million records and is still performing today.
Side A:
1. SheBop
2. Girls Just Want To Have Fun / What A Thrill
3. I'llKiss You
4. Yeah Yeah
5. I'mGonnaBe Strong
Side B:
1. Time After Time
2. When You Were Mine
3. Money Changes Everything
4. Witness
5. Maybe He'll Know