Eric Clapton with Mark Knopfler & Elton John
Eric Clapton with Mark Knopfler & Elton John – Live in Tokyo 1988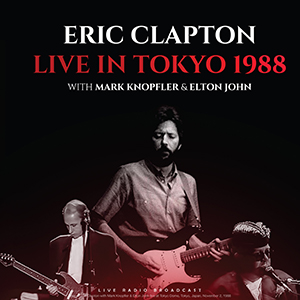 Available on: LP
Playing time: ca. 48 minutes
EAN LP: 8717662583810
ART. NR. LP: CL83810
return to catalogue
Synopsis
Eric Clapton is celebrating his 25th anniversary with this
concert and he invited two of his legendary friends:
Mark Knopfler and Elton John. Together they play their
biggest hits, with the renowned guitarists providing
riviting solo's on many of the songs. Eric Clapton is
ofcourse the ringleader of this show and plays beautiful
renditions of his hit songs 'Layla', 'I Shot The Sheriff'
and 'Wonderful Tonight'. A one-of-a-kind experience
now on vinyl.
SIDE A:
1. Cross Road Blues
2. I Shot The Sheriff
3. Daniel
4. After Midnight
SIDE B:
1. Wonderful Tonight
2. Money For Nothing
3. Layla
1. White Summer
2. You Shook Me
3. How Many More Times