John Hiatt
John Hiatt – Paper Thin – Best of Live Radio Broadcasts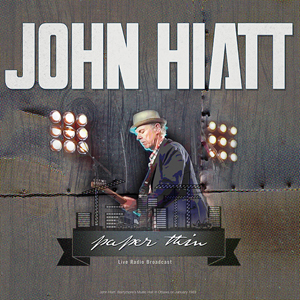 Available on: LP
Playing time: ca. 48 minutes
EAN LP: 8717662572791
ART. NR. LP: CL72791
return to catalogue
Synopsis
Whilst touring across the US and Canada in support of Slow Turning, John Hiatt stopped off at Barrymore's Music Hall in Ottawa in January 1989. This LP and CD
features the best songs performed that evening. With a wealth of tracks from both the albums Slow Turning and Bring the Family, this LP and CD sounds as electric now
as it surely did when it was performed.
Side A
1. Drive South
2. Thank You Girl
3. Tip Of My Tongue
4. Tennessee Plates
5. Ride Along
Side B
1. Paper Thin
2. Thing Called Love
3. Have a Little Faith in
4. Me Ice Blue Heart
5. It'll Come to You