Prince & The Revolution
Prince & The Revolution – Syracuse 1985 part 1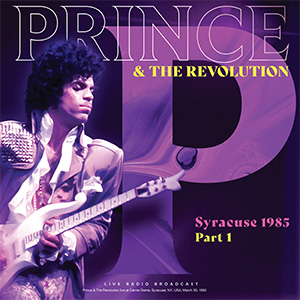 Available on: LP
Playing time: ca. 48 minutes
EAN LP: 8717662585371
ART. NR. LP: CL85371
return to catalogue
Synopsis
Nothing compared to Prince. As a performer he was known for his flamboyant style and showmanship. This was recorded during the Purple Rain tour, the album that spent 24 at number one and made Prince a superstar. Part 1 and part 2 together create the perfect combo where, accompanied by The Revolution, Prince plays all the hits: 'Let's Go Crazy', '1999', 'When Doves Cry', 'I Would Die 4 U' and ofcourse: 'Purple Rain''. An unstoppable songwriter, the multi-instrumentalist also penned plenty of hits for other artists until his early death 2016 at the age of 57.
SIDE A:
1. Let's Go Crazy
2. 1999
3. Little Red Corvette
4. Take Me With U
5. How Come U Don't Call Me Anymore?
SIDE B:
1. When Doves Cry
2. Delirious
3. Do Me, Baby
4. Irresistible Bitch
5. Possessed
6. Computer Blue