Ray Charles
Ray Charles – Genius Of Soul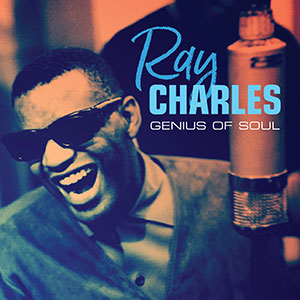 Available on: LP
Playing time: ca. 47 minutes
EAN LP: 8717662578762
ART. NR. LP: CL78762
return to catalogue
Synopsis
Ray Charles Robinson was an American singer,
songwriter, musician, and composer. He was often
referred to as 'The Genius'. He pioneered the soul music
genre during the 1950's by combining blues, rhythm and
blues, and gospel styles. He contributed to the
integration of country music, rhythm and blues, and pop
music during the 1960s. This album contains the hits 'Hit
The Road Jack', 'Georgia On My Mind', and 'What'd I
Say'.
Side A:
1. Hit The Road Jack
2. Bye Bye Love
3. Hey, Good Lookin'
4. Unchain My Heart
5. Oh, Lonesome Me
6. Hallelujah I Love Her So
7. What'd I Say
8. I've Got A Woman
9. Careless Love
Side B:
1. You Don't Know Me
2. I Can't Stop Loving You
3. Take These Chains From My Heart
4. Your Cheatin ' Heart
5. Don't Let The Sun Catch You Cryin
6. You Win Again
7. Georgia On My Mind