Run-D.M.C.
Run-D.M.C. – The Apollo '86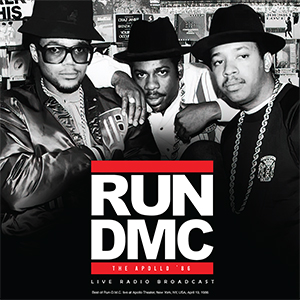 Available on: LP
Playing time: ca. 47 minutes
EAN LP: 8717662587856
ART. NR. LP: CL87856
return to catalogue
Synopsis
Run-D.M.C. is undoubtedly one of the most influential groups in the history of hip hop. The New Yorkers shaped the sound of hiphopby stepping away from disco influenced hiphopand introducing more sparse, hard-hitingbeats. Run-DMC not only broke the mold, theybroke records, they were the first hip hop act to have their music videos broadcast on MTV, be on the cover of Rolling Stone and be nominated for a Grammy Award. According to the Rolling Stone Encyclopedia of Rock & Roll Run-D.M.C. took hardcore hip-hop from an underground street sensation to a pop-culture phenomenon.
SIDE A:
1. Jam-Master Jay (Intro)
2. Tougher Than Leather
3. My Adidas
4. Rock Box
5. Darryl and Joe (Krush-Groove 3)
6. Jam-Master Jay
7. Clap Your Hands
SIDE B:
1. Here We Go
2. It's Like That
3. Raising Hell
4. Hit It Run
5. Peter Piper
6. King of Rock