The Tielman Brothers
The Tielman Brothers – Rock Little Baby Of Mine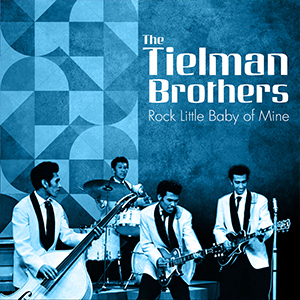 Available on: LP
Playing time: ca. 48 minutes
EAN LP: 8717662581076
ART. NR. LP: CL81076
return to catalogue
Synopsis
The Tielman Brothers is a Dutch/ Indonesian rockband. They were one of the pioneers of rock and roll in The Netherlands, and are credited with releasing the first Dutch rock and roll single, Rock Little Baby of Mine in 1958. The Tielman Brothers became famous in Europe for playing a kind of rock and roll later called Indorock a fusion of Indonesian and Western music. This album contains their biggest hits from 1958 until 1962.
Side A:
1. 18th Century Rock
2. Rock Little Baby Of Mine
3. A.A.A.
4. Java Guitars
5. Tahiti Jungle
6. My Maria
7. I Can't Forget You
8. Warum Weinst Du Kleine Tamara?
Side B:
1. Record Hop
2. Pretend
3. Swing It Up
4. O Rosalie
5. Black Eyes
6. You're Still The One
7. O Sole Mio
8. April In Paris
9. Fern Am Amazonas