More than 50 Years of Ben Heerink
The Dutch musician Bert Heerink has been in the music industry for over
50 years with national and international succes. To celebrate his succes,
the vinyl record 'Officially (G)OLD' has been released which includes 2 LP's.
Bert Heerink has had amazing cereer over the past 50 years in music.
From being a member of bands like Vandenberg, Picture, Kayak
and Royal Flush, to his roles in musicals and playing with Jan Akkerman.
He has had multiple hit songs like 'Buring Heart', 'Different Worlds'
and 'Julie July'. Heerink is currently still active in the music industry
as the singer of The Pink Floyd Project' 
'The Officially (G)OLD' record has been compiled by Bert Heerink
himself and is an amazing collection of his greatest hits and
performances. The record is a double LP and the inside cover
contains a painting by Bert Heerink himself.
Ben Heerink – Officially (G)OLD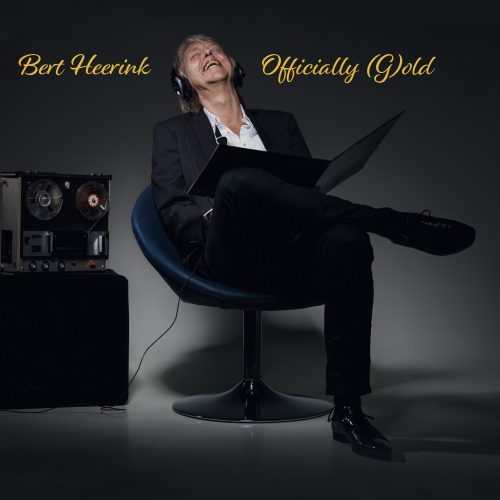 2 LP in luxury gatefold with golden foil printing
EAN LP: 8713748985455
Side 1 
1. The Dogs Of War – Pink Floyd Project – LIVE
2. Nothern Flame – Saskia Heerink / Bert Heerink
3. Panic Attack – Bert Heerink
4. Sarah – Picture ft. Bert Heerink
5. Shame On You – Bert Heerink
Side 2
1. Highway To Heaven – Royal Flush
2. Burning Heart – Vandenberg
3. Purify – Saskia Heerink / Bert Heerink
4. When I Close My Eyes – Bert Heerink
5. Love Is A Trail – Undercover
Side 3 
1. Twee Werelden – Bert Heerink
2. Juli July – Bert Heerink
3. True Love That's A Wonder – Heerink & Friends
4. Starlight Dancer – Kayak ft. Bert Heerink – LIVE
5. Don't Stop Me Now – Orkest van de Koninklijke Luchtmacht ft. Bert Heerink – LIVE
Side 4
1. Summertime – Jan Akkerman & Band ft. Bert Heerink – LIVE
2. Money – Noord Nederlands Orkest ft. Bert Heerink – LIVE
3. Woman's Gone – Jan  Akkerman & Band ft. Bert Heerink – LIVE