Paul Simon and Art Garfunkel are one of the most successful folk-rock duo of the 1960's. Since then they have sold over more than a 100 million records,  won 10 Grammy Awards and have been inducted into the Rock and Roll Hall of Fame.
The duo have inspired songwriters and performers over the years and still to this very day. A great example is the big success of the Dutch documentary series 'Homeward Bound'. Where Dutch duo Nick & Simon travel to New York to trace in the footsteps of their idols.
On the 23rd of July Cult Legend will release The Simon & Garfunkel The Broadcast Collection 1965 – 1993. A 4 CDBox with 6 amazing live radio broadcast which of course included their greatest hits like 'The Sound of silence', 'Mrs. Robinson' and 'Bridge over Troubled Water'.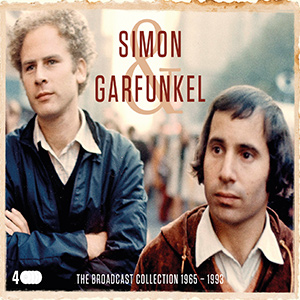 The Broadcast Collection 1965 – 1993
CD 1  The BBC Sessions – BBC Radio Five To Ten, January 27 1965
BBC Radio July 1965,
Royal Albert Hall, London, April 1970
CD 2  Buffalo New York, January 2 1967
CD 3  Paul Simon – Live 'n' Late in the Evening, The Tower Theatre Philadelphia, October 8 1980.
CD 4  Paramount Theatre, New York, October 23 1993
EAN CD: 8717662582981
ART. NR.: CL82981