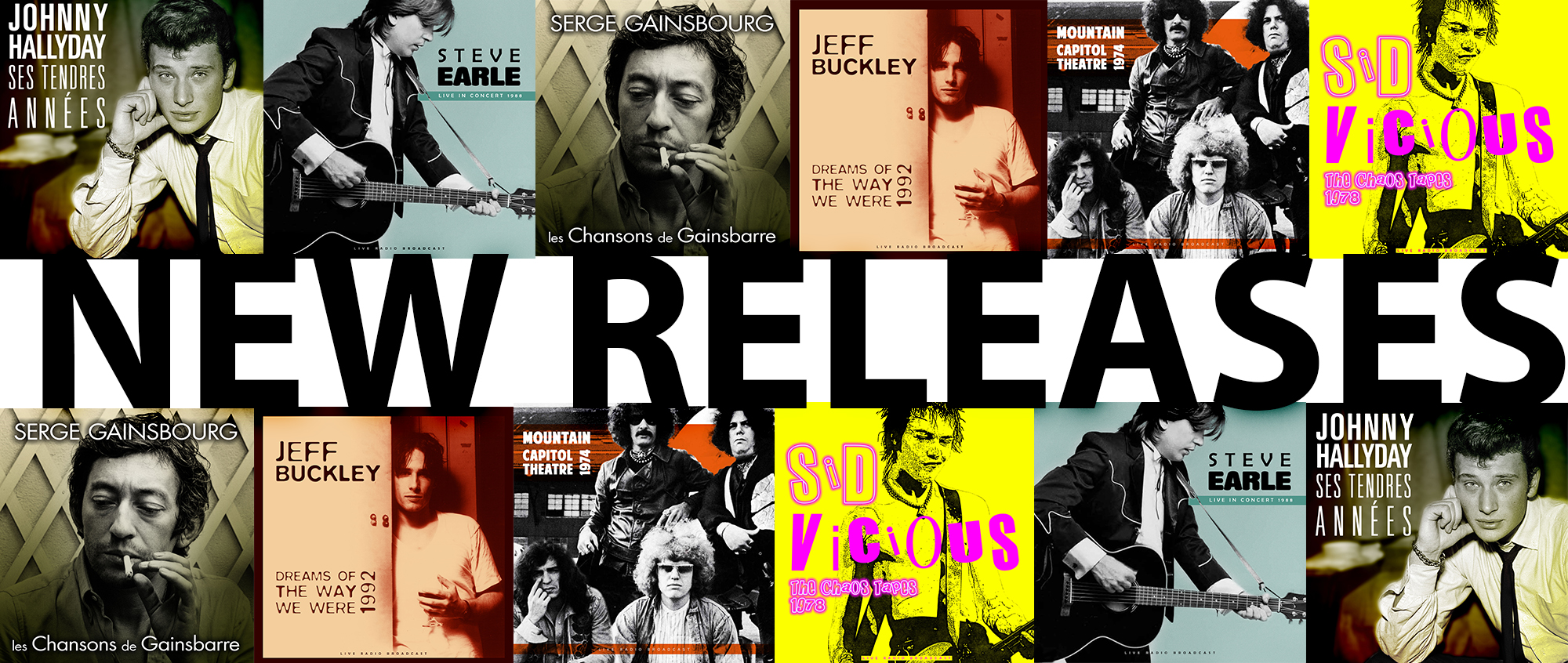 This month we'll add six amazing new albums on vinyl to the Cult Legends catalogue. Including four live radio broadcast recordings of Jeff Buckley, Steve Earle, Sid Vicious and Mountain. We are also releasing two studio albums of Johnny Hallyday and Serge Gainsbourg.
All these great new LPs will be available from June 20th.
Jeff Buckley – Best of Dreams Of The Way We Were 1992
Jeffrey Scott Buckley, was an American singer, songwriter and guitarist. He died in 1997 and since his death, there has been many posthumous releases of his material. Chart success also came after his dead with the
cover of Leonard Cohen's song "Hallelujah". This song is also on this album.
EAN CD: 8717662576355
ART. NR.: CL76355
Steve Earle – Live in Concert 1988
Steve Earle is an American rock, country and folk singer songwriter, record producer, author and actor. Earle began his career as a songwriter in Nashville and releases his first EP in 1982. This album is a live radio broadcast and has been recorded at BBC Radio 1 on november 29th 1988.
EAN CD: 8717662577208
ART. NR.: CL77208
Sid Vicious – Best of The Chaos Tapes 1978
Sid Vicious was an English bassist and vocalist. He achieved fame as a member of the punk rock band the Sex Pistols. This live radio broadcast is a recording from one of his performances at Max's Kansas City in 1978. It was one of his last performances as a solo musician as well as his last performances ever before he died on 2 February 1979.
EAN CD: 8717662579370
ART. NR.: CL79370
Mountain – Best of Live at Capitol Theatre 1974
Mountain is an American hard rock band that formed in 1969. The band broke up in 1972 and has reunited frequently since 1973. Mountain is best known for their song "Mississippi Queen", as well as their performance at the Woodstock Festival in 1969. This album live radio broadcast which was recorded in 1974 at Capitol Theatre in Passaic New Jersey.
EAN CD: 8717662577048
ART. NR.: CL77048
Johnny Hallyday – Ses Tendres Années
Johnny Hallyday was a French rock and roll and pop singer and actor, credited for having brought rock and roll to France. This album is a collection of Johnny's early sound. Including his cover of "Let's Twist Again" (1961). Johnny's version of the song sold over one million copies and was awarded a gold disc.
EAN CD: 8717662578885
ART. NR.: CL78885
Serge Gainsbourg – Les Chansons de Gainsbarre
Roy Orbison, also known as The Big O, was an American singer and songwriter known for his powerful voice. From 1960 to 1966, 22 of his singles reached the Billboard Top 40, including "Only The Lonely" (1960) and "Crying" (1961).
EAN CD: 8717662578359
ART. NR.: CL78359